What We Love and What We Don't Love About WordPress
A Wide Range of Features and Functionality Offered By This CMS Come With Some Drawbacks
There are plenty of good reasons WordPress has led CMS technology for almost 15 years. Originally a blogging platform, WordPress has come a long way since its beginning in 2003 and has developed a host of benefits that make it fit almost any situation. With a robust community, a rich collection of core features, almost unlimited customizability, and easy hosting, this CMS can be the right choice for almost any situation.
However, although WordPress can be made to fit almost every occasion, forcing it to fit your needs might feel like hammering a square peg into a round hole. In some situations its flaws might lead you to consider another option. Despite all of WordPress's virtues, it's certainly not a "cutting edge" tool — it offers nothing incredibly innovative, and it can feel clunky, or "heavy."
So is WordPress the right tool for you?
Maybe.
Below is what our developers liked and didn't like about WordPress. Keep reading to decide if it's right for you.
What We Love: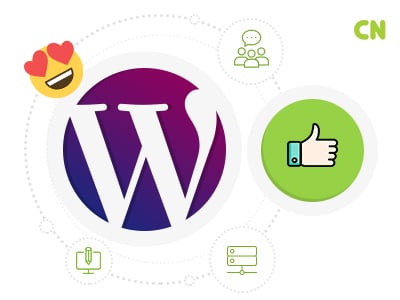 Complete Customization
One of WordPress's biggest selling points is its near-total range of customizations in the form of plugins. Since the WordPress software has been around for so long, developers have released an extensive range of plugins. You can integrate chat, location services, ad placement, custom objects or fields, and so much more. Plus, if nothing currently exists for what you want, new plugins are relatively simple to create. These fulfill necessary functions for a site that requires more than the WordPress core to build and deploy.
Out of the Box Functionality
It's easy to get caught up in WordPress's customization options — after all, a plugin exists for almost any problem — but it's sometimes unnecessary. WordPress boasts a wide range of out-of-the-box features and functions to make it immediately useable. This is because years of development has made WordPress one of the go-to tools for web developers and designers. It has just about everything you could ask from a single, simple download:
Post & page creation
Scheduling
Media Management
Previewing
Categories & tags,
WYSIWYG theming,
Ability to Create Multiple Sites
…and more.
This functionality means you can download and get started with WordPress in about five minutes.
Ease of Use and Hosting
Almost anyone with a passing interest in web development and design has used WordPress to build and customize their own website or host their own blog. Because so many people already have the requisite experience, it's incredibly easy to find WordPress developers and other associated employees. A good WordPress developer will already have been using the software for over ten years and become very familiar with its features and options.
Plus, plenty of hosting options exist — companies like Bluehost, for example, are specifically set up to host WordPress sites.
Community
We would be remiss not to mention the WordPress community. It might surprise people who aren't in the industry, but even well-trained and skilled developers don't always know the answers off the top of their heads! Having a flourishing and mature community to offer support and answer questions goes a long way.
Open Source
WordPress is a free to use, open source software and anyone can use and change its source code. There are plenty of free themes and plugins, but that's not the best part. The best part is that skilled and experienced programmers can share bits of code online, meaning that you can benefit from their skills and experience by using their existing code… for free!
What We Don't Love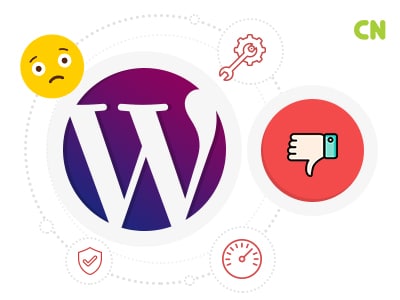 No software or hosting platform is perfect. Beware — even though WordPress can be made to fit a wide variety of needs, it might not be the best solution for you. Below are some cons of WordPress our developers identified. Read them carefully to see if they would be a dealbreaker for your project.
Customization
Paradoxically, some benefits of a given software also create a unique set of drawbacks. It depends on how comfortable you are with the software.
If you have a team of dedicated developers who know everything about WordPress and have been doing it for years, then the extensive customization options will likely benefit you. But if you do everything yourself, or you have a small team, the array of customizations might just get in your way.
It's very easy to waste time and get frustrated going through the endless customizations. If you don't know what you're doing, the occasional customization update will cause problems for your site.
Speed
Nobody ever accused WordPress of being too fast. Out of the box, it takes WordPress a long time to load pages. You may have to set some time aside to determine the best way to streamline your code and make your site run faster. It's possible to build in layers of caching, but WordPress has notoriously difficult caching logic.
In other words, it's possible with just the right amount of work and balance to get a fast-loading WordPress site, but you'll need skilled developers to do it.
Security
The open-source nature of WordPress is one of its biggest drawbacks as well as being one of its major benefits. This CMS is free and easy to customize and learn. However… being open source also makes WordPress vulnerable. Hackers and malware will easily find their way onto your website unless you know how put safeguards in place. Again, if you're doing everything yourself, you probably won't be alerted to a potential problem until its too late.
Conclusion
In the right hands, WordPress is a great tool. Its customization options, ease of access, ease of hosting, and great open-source community make it very accessible even if you're a beginner. In skilled hands, WordPress can even be used for powerful websites, and it has very few restrictions in terms of capability.
Unfortunately, some of the features that make it so great also have drawbacks. Not only is it slow, but a site built in WordPress can also be vulnerable to attack. Further, sifting through the customization options and choosing features you aren't sure about can backfire if your site isn't prepared for updates.
Your best bet is to use an experienced WordPress developer to utilize everything this CMS has to offer.
If you'd like to talk about getting skilled and experienced WordPress developers to build or customize your site, just contact us to learn more.
Comments
comments