The Truth About Capital Numbers Fake Reviews – A Motivated Smear Campaign
Capital Numbers is a 3 year old start-up based out of Kolkata, Chennai, US and Australia focusing on Digital Production Outsourcing for Agencies and Brands. We are one of the "Top 10 Promising Start-ups" in CII Industrial Innovations Awards 2015 organized by CII and Ministry of Skill Development and Entrepreneurship, Govt. of India.
Last year too, we were awarded "SME Start-up of the Year" by The Telegraph at INFOCOM. We are a young digital transformation service company with a workforce of about 275 people based out of Kolkata, Chennai, US and Australia.
Naturally, this has not gone down too well with our competitors and we have started to see a deliberate attempt by some unscrupulous people to malign our name by posting fake reviews about us across multiple websites.
A few such examples can be seen at –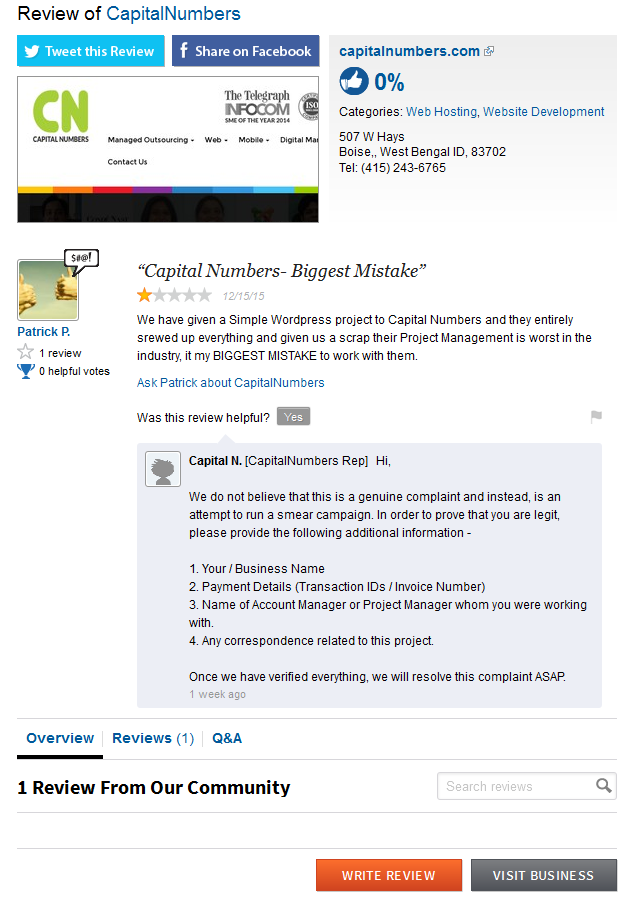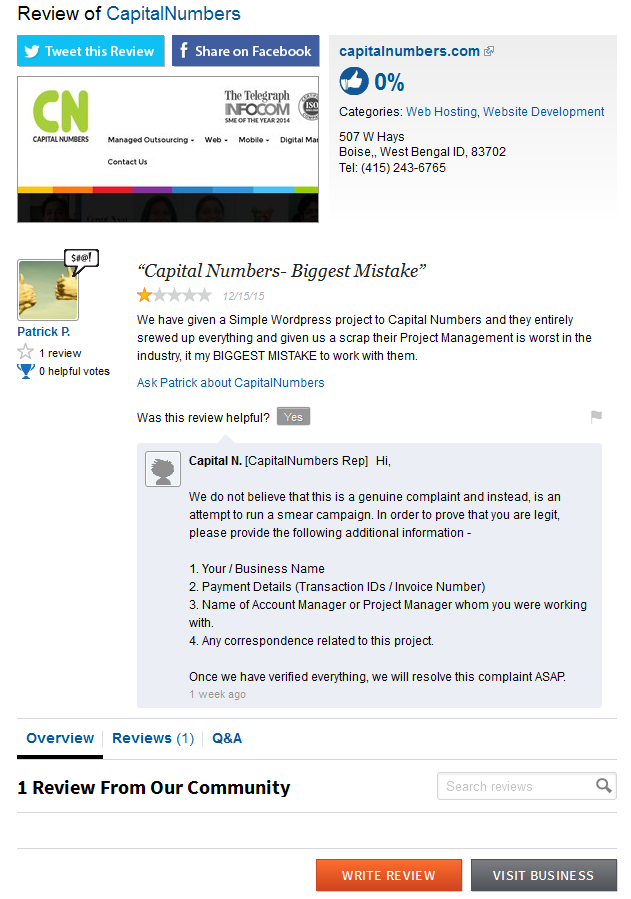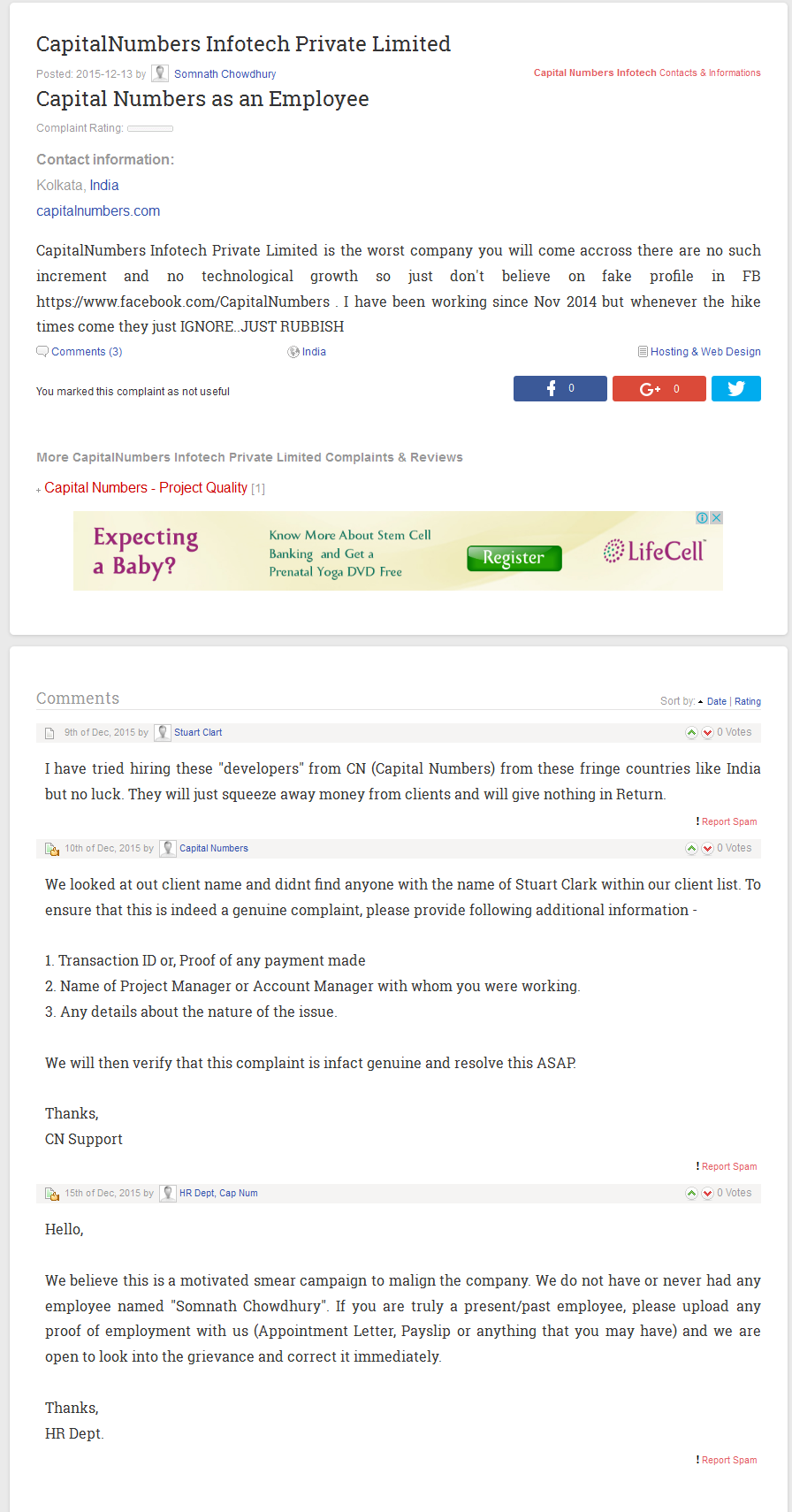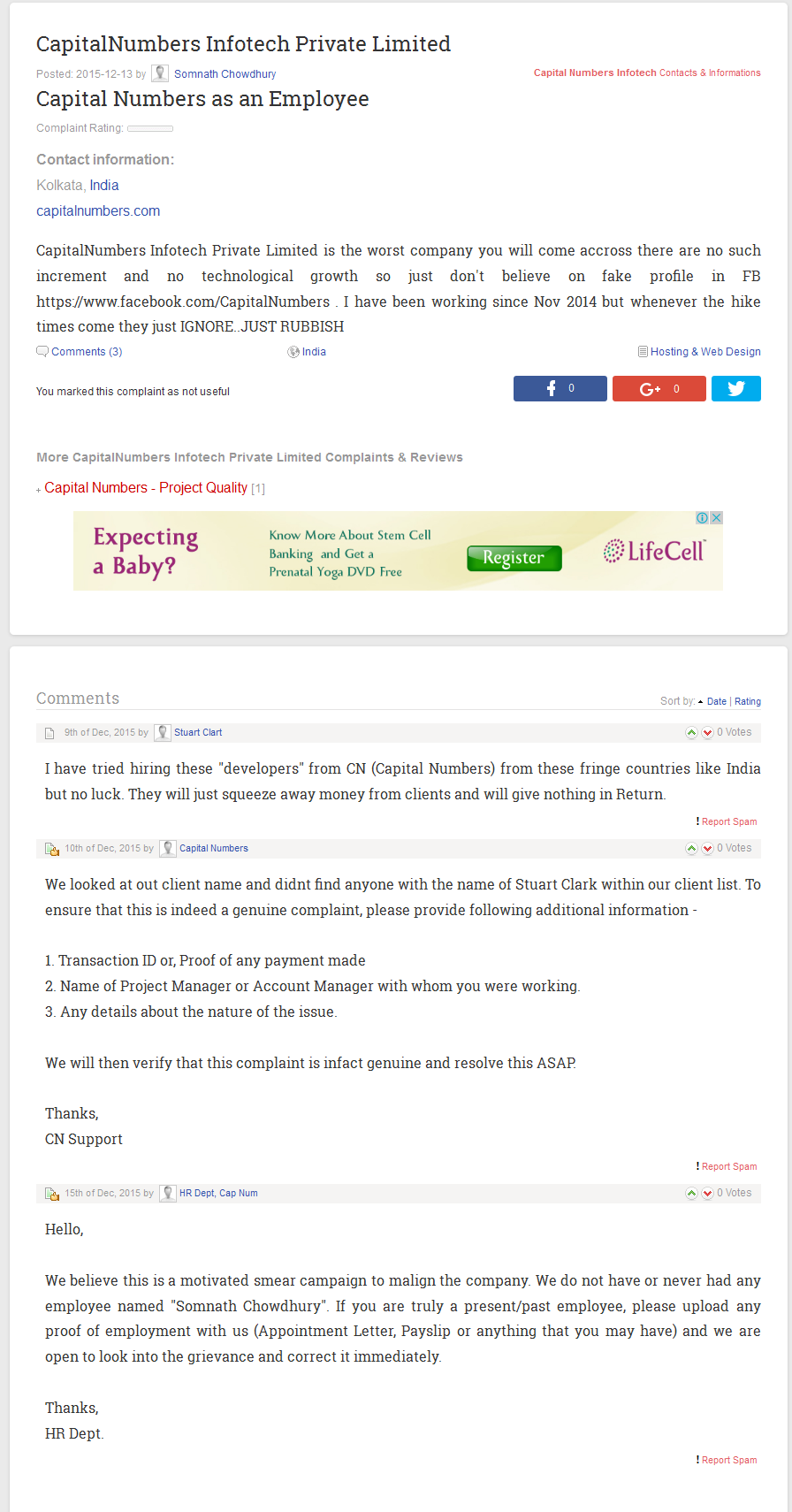 All these complaints have been posted within 1 week, starting December 7th 2015 and we have responded to each of these complaints online and asked for more information and have received no response.
We do not know of anyone named Stuart Clark, Patrick P, Keith Harley or, Somnath Chowdhury which are the names being used by these guys. We believe that this is a competitor who is systematically trying to destroy our business by consistently harassing us and leaving us negative feedback online about our business. These people have never been our customer or employee, and are out to defame our business.
What's Next?
We have filed an official police complaint with the Cyber Crime division and we will try and get their help to identify the culprit.
As a Current or Prospective Client or Employee, we urge you to ignore this and if you have any doubts then please do not hesitate to reach out to us directly by emailing us at [email protected].
Capital Numbers and CN family have worked hard since 2012. It has not been an easy journey, challenges often overshadowing the moments of success. However, we believe in the phrase "Fall down seven times, Stand up eight" and have decided to stand up once again against this fabricated hate campaign propped up against us.
How You can Help?
First of all, please recognize and ignore a fake review when you see one. If you are an existing client or an employee, we would also encourage you to please post positive reviews about the company where you can.
About CII –
CII is a non-government, not-for-profit, industry led and industry-managed organization, playing a proactive role in India's development process. Founded over 117 years ago, it is India's premier business association, with a direct membership of over 7100 organizations from the private as well as public sectors, including SMEs and MNCs, and an indirect membership of over 90,000 companies from around 250 national and regional sectoral associations.
About MSDE –
Recognizing the need and urgency of quickly coordinating the efforts of all concerned stakeholders in the field of Skill Development and Entrepreneurship, Government of India notified the formation of the Department of Skill Development and Entrepreneurship on 31st July, 2014 which subsequently led to the creation of the Ministry of Skill Development and Entrepreneurship on 10th Nov, 2014.
About INFOCOM –
INFOCOM, an initiative from the house of ABP was started in 2002. Founded in 1922, the ABP Group is one of the foremost media conglomerates in India having 11 premier publications, three 24-hour national TV news channels, a leading book publishing business as well as various mobile and internet properties. ABP's portfolio covers a gamut of genres and encompasses premium brands like — Anandabazar Patrika, The Telegraph, Fortune India, Ebela, ABP News, ABP Ananda, ABP Majha and many more…