Hello from the bots side – Conversational Commerce ft. Facebook Messenger Chatbots
"Chat apps will come to be thought of as the new browsers; bots will be the new websites. This is the beginning of a new internet."
Ted Livingston, founder and CEO of Kik made this ambitious claim in his medium post The Future of Chat Isn't AI where he talks about the possibilities that a bot-revolution will bring and the very visible trend of conversational commerce.
Source: Medium
We have spoken about businesses forming contextual, convenient and deeper engagements with customers through conversational commerce as well.
So when Facebook launched their Messenger Platform (beta) for Facebook Messenger at the F8 Conference, we could not help but delve right into the kind of opportunities that it brings for content distribution and engagement.
Source: Techcrunch
Here are some numbers from Messenger that make us more excited about the potential of chatbots helping businesses in reaching more customers
* Over 900 million active users
* Over 60 billion messages daily (between Facebook Messenger and WhatsApp)
* Over 15 million businesses on Facebook Messenger
* More than one billion messages are sent to businesses each month
* Fastest growing app in the U.S.
* Second Top App on iOS (globally behind Facebook)
Now how do we harness these bots for the benefit of the brands? According Adam Hirsch, Edelman Digital Global, we exploit the following 3 key social consumers' experiences: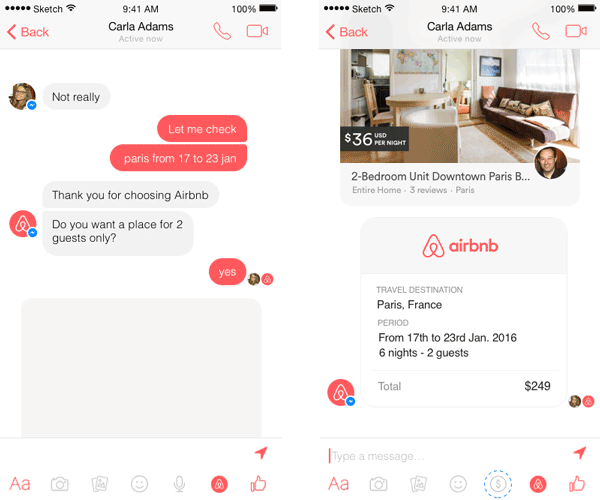 Source: Medium
* Content consumption (informational and entertainment)
* Customer service
* Productivity (including shopping experiences)
From instant and personalized customer service response to lead generation, the possibilities are numerous, like everything in marketing; it all depends on how creative you can be with programming the bots, and how accurate they are with driving the conversations.
As for the scope of these bots in the long run, and if they would find takers in the mass, let's leave you with saying right from the horse's mouth
"I've never met anyone who likes calling a business, and no one wants to have to install a new app for every service or business they want to interact with," Zuckerberg
There is a maze of solutions and options available if you are building out an online store. You need options that meet your business requirements and fit your budget.
At Capital Numbers, we are able to implement a range of ecommerce packages, ecommerce software and shopping cart systems that provide you with the best value for your investment.
To know how we plan to use the chat-bots to your benefit too, contact us at http://www.capitalnumbers.com/contact_us.php
Comments
comments