ISO 9001 & 27001 Certified with over 98% 5 Star Rating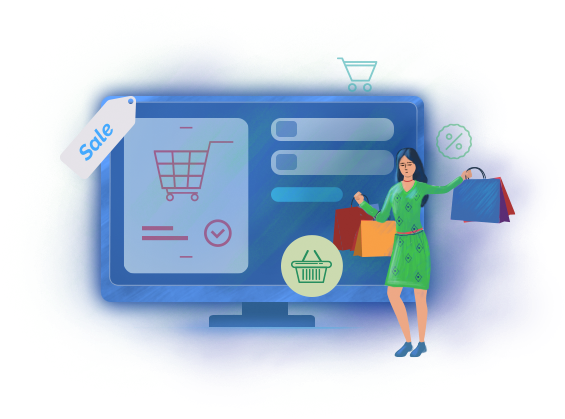 eCommerce Software Development Services
With integrated capabilities, we create eCommerce platforms that are income-generating and leading-edge. From frontend, backend, code, tests, launch to support - we tackle everything with finesse so that you bring in revenue like clockwork. Our WooCommerce, Magento, and Shopify development services lift businesses to the next level. Whether you have an entire store setup, high customizations, or a mere upgrade in mind, we can take care of it all to improve your bottom line.
eCommerce Website Development
Capital Numbers creates stunningly beautiful eCommerce websites from scratch - thanks to its right mix of talent and tech. We offer personalized solutions to help our clients stay ahead. No matter at which development stage our clients seek our support, we can jump right in to cater to their needs.
Multi-Vendor Marketplace Development
We drive success with multi-vendor marketplaces that cater to independent vendors and sellers through a single storefront. Our all-in-one marketplace solutions include custom catalogs, vendor registration, vendor panels, multiple payment gateways, custom reports, vendor ratings, and more. Our personalized marketplaces allow you to add/delete/manage your vendors at will, offering a 360° control over your store's functionality.
Shopify eCommerce Development
Our feature-packed Shopify eCommerce development services provide merchants value for money. Because of our broad experience gathered over the years, we perfectly build Shopify stores that are sales-driven and profitable. Our dedicated Shopify team helps businesses take full advantage of clean code, customizations, theme development, quality checks, and even migrations for enhanced performance.
Magento eCommerce Development
Our skilled Magento engineers are ready to address your eCommerce needs end to end - from ideation, UI/UX, implementations, integrations, plugins to deployment. We aim to bring creative and financial value to every Magento project that we take up. We hire the top 1% of Magento developers who come up with modern, industry-focused solutions to make your Magento store cutting-edge.
WooCommerce Store Development
We use the right blend of backend, frontend, and integration capabilities to turn your WooCommerce platform into an income-generating store. Our well-crafted WooCommerce platforms are 100% mobile-responsive, fully customizable, and conversion-focused. Since we have multi-year WooCommerce development expertise, we know how to deliver an impeccable store while increasing your profitability by over 50%
B2B eCommerce Development
We leverage top engineering skills to create powerful B2B eCommerce platforms with integrated APIs for ERP, OMS, bulk orders, multiple payment gateways, multi-address deliveries, etc. We even tailor solutions to handle unlimited product SKUs and price variations. Our custom solutions help high-volume distributors and suppliers trade profitably within a single UI.
Multichannel eCommerce Development
We have the skills to develop multichannel eCommerce platforms for big and small businesses. We map out, design, and launch multichannel stores that convert. By leveraging shopping carts, inventory management, CRM, shipping carriers, POS integrations, third-party APIs, etc., we help businesses reach various sales channels - all without breaking a sweat.
eCommerce Marketplace Development
We tailor-build online marketplaces for any product category in any industry. Our fully-functional marketplaces are a win-win for merchants and customers. We meticulously craft buyer journeys to drive revenues for merchants and treat customers to a comparative shopping experience they love. Be it a single-vendor or a multi-vendor marketplace, we are proficient in developing all.
Custom Integrations
Our ace eCommerce developers offer exceptional functionality boosts with custom integrations. We provide robust integrations for seamless connectivities with payment gateways, shipping, ERP, CRM, accounting, location mapping, email services, analytics, and so on. Our reliable integration services lower development costs, simplify workflows, and lead to 100% client satisfaction.
eCommerce Migration and Maintenance
We move legacy eCommerce portals to new environments while keeping costs low. Regardless of the project size or scale, we migrate old systems without missing a single module, template, or code snippet. We retain all that you love and ensure nothing gets left behind. We can also regularly monitor and maintain your existing websites that we did not develop.
Let's discuss your eCommerce projects
Or, Use this form to share your requirements. Get guaranteed response within 8 Hrs.