We CMOs
Reach a huge market
with integrated creative teams
You might have all the creative talent in the world, but when it comes to deploying that talent in a meaningful way, you need SEO, SEM, analytics, asset and content management, and marketing automation.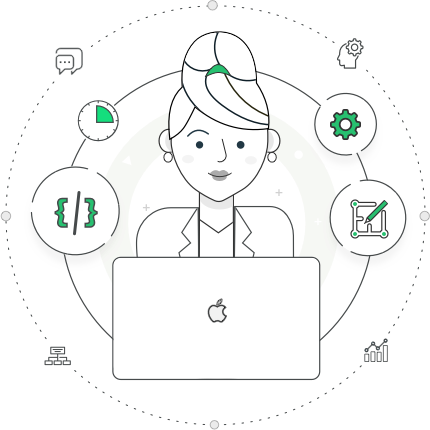 At Capital Numbers, we deliver a wide range of marketing skills to help you build, optimize, and integrate a variety of marketing systems. We understand SEO, PPC, and Social Media. Not only can we run analytics, but we can also break them down for you. By helping you plan and execute digital marketing strategies, we're helping you to reach your market.
Or, Use this form to share your requirements. Get guaranteed response within 8 Hrs.
Our clients include 150 Global Brands, Silicon Valley Founders
Why We're Different
Most of our competitors are still doing purely technical projects, or only offer certain, non-customizable services.
Unlike them, we offer fully integrated teams to handle your design, user experience, and digital marketing. So you get eye-catching visuals, engaging content, and high-end funnels aimed at more traffic. Explainer videos, motion graphics, and link-building are only a part of what we offer.
If you need a certain skillset, a team to integrate with your team, or simply more manpower, we provide that quickly and easily. So projects get finished to your exact specifications. The work will be 100% complete, with no need to look over or re-do what we've already finished.
Working with us will improve the performance of you and your team in a variety of ways.

You'll be under less pressure and handling a smaller load of work.

The work will be of the same quality you'd demand of your in-house team.

Your projects will always be completed on time.

You get complete control throughout the process.
Or, Use this form to share your requirements. Get guaranteed response within 8 Hrs.
Here's Why You Should Choose Us
We Are a Google Partner
We can use Adwords or Google Analytics to drive drastic increases in traffic. Plus, we generate at-a-glance analytics reports that you can understand even if you only have five minutes.
CRM Expertise
We have experience in vast array of marketing platforms and CRMs. So you can hand us projects based on any platform or CRM and we can jump right in with minimum preparation.
Integrated Teams
Although some of our competitors only have one skillset, we offer an integrated multi-disciplinary team of experts to help you quickly solve any problem you may face with your funnels, design, content, or CRM.
Define, Execute and Measure Your Online Strategy
Some companies only offer a set number of solutions. Those don't always fit your vision. We offer flexible and custom solutions so you can reach your market in exactly the way you want. This means that we can work with you at every stage of the project, from beginning consultation to the end.
Varied Skills
Although we understand the technical details, that isn't all we do. We have experienced and creative designers and content producers. So if you're behind on your content or run into a creative difficulty, we have no problem helping you out of it.
We Integrate with Your Existing Marketing Systems
If you already have systems that are working for you, integrations with us are easy. Our teams integrate seamlessly with your systems so we can get started with no stalling or interruptions, plus, we can work with your existing brand, advertising or marketing agency.
Conversion funnels
By providing high-end funnel services, we make sure you're connecting with red-hot prospects.
Or, Use this form to share your requirements. Get guaranteed response within 8 Hrs.
We'd Love To Hear From You
Get Custom Solutions, Recommendations, Resumes, or, Estimates. Confidentiality & Same Day Response Guaranteed!
What's next?
One of our Account Managers will contact you shortly
Shovan

Dibakar

Indrajit

Avik