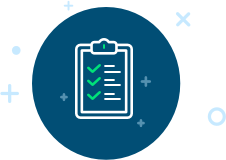 Features
We developed a basic free version of 2 Numerology with the option to upgrade to the full version by paying a one-time fee, with the ability to restore the purchases on other devices.
Soulprint
The app carries some complex algorithms that can generate numerous complex readings. One such example is the soulprint section. This particular section lets the user know their birthdate numbers and name numbers along with a forecast.
To generate the data, users only have to provide their date of birth along with their name.
Multi Profile Management
User can manage multiple profiles using this app. This is especially useful if the user also wants to generate numerological data for their friends and family members. (This feature is only available through in-app purchase).
Comprehensive walkthrough
Numerology might be little overwhelming for new users. We had this in mind while we were working on the app. The application navigation is user friendly, and we added very simple guides the user can read to get a complete understanding of what various numbers, categories, charts or colours might mean.
Relationship chart
The relationship chart shows users the compatibility of their soul urge, personality, destiny, and more, in comparison to their partners, friends or family members.
The algorithm will generate a soul urge number, and users can compare it to the numbers of their friends and family. The closer the numbers are to each other the more compatible the relationship would be.
Soulprint Details
The application also features a soulprint details section where the user gets to view all the details associated with user's profile in one single place such as motivations, impressions, expressions, and more.
Monitization
Basic Version

In the basic version we offer a guide on how to receive a free Soulprint chart, with detailed explanations of the general meanings of the numbers, categories, charts, and colors.
When a user is ready to start they press Start Here, and create a profile. They can categorize the profile as their own, family, or friend, etc. Then they select a profile to see the Soulprint.
The Soulprint is a comprehensive numerological chart showing multiple categories--all a user has to do is press the number in the category box and they are shown the full, personalized reading. The Soulprint includes numerological forecasts for the year, month, and day, so users can freely access daily readings.

Full Version

In the full version we offer access to a number of services the user can select, including Love Compatibility, Personal Day Calendar, Daily Forecast, and others.
These services correlate to the profile the user has selected, so they can see the daily forecasts of friends and family, as well as check relationship compatibility between colleagues and romantic partners.
Additionally a user can chat with amateur and professional numerologists using the Numerology Chat option so they can continue their numerology experience in a one-on-one personal context.
Great Reviews
97 Out Of 100 Clients Have Given Us A Five Star Rating On Google & Clutch

Capital Numbers
5

/

5
James Burke
Managing Partner, Consensus Interactive
"They're very willing to assemble the team that we ask for if we have certain preferences."

Capital Numbers
5

/

5
Judy Shapiro
CEO, engageSimply
"They invest in the success of their clients which makes them flexible in accomodating the needs of growing companies."

Capital Numbers
5

/

5
P. Attur
CIO, Hudson Regional Hospital
"Capital Numbers was easy to work with, and they were always available."

Capital Numbers
5

/

5
Eric Liu
CEO, FairyGene
"I was impressed by their professionalism."

Capital Numbers
5

/

5
Will Hershfeld
Director of Web Services, AdsIntelligence
"They are a well-structured team and that impressed us the most."

Capital Numbers
5

/

5
Jon Kayser
Owner, Insite Marketing Source
"Their willingness to be flexible impressed us the most."
Read More Reviews
We'd Love To Hear From You
Get Custom Solutions, Recommendations, Resumes, or, Estimates.
Confidentiality & Same Day Response Guaranteed!
What can we help you with?
Our Consultants Will Reply Back To You Within 8 Hours Or Less
Shovan

Dibakar

Indrajit

Avishek
25+
Awards in the last 9 Years
100+ Five Star Reviews
On Clutch, Google and GoodFirms