Web Design Best Practices @ Capital Numbers
A website is considered great following its usefulness, relevancy and user friendly design. Every web project is different and hence it must be treated in its unique depending upon its service offering or products and its target market. But, there are some basic design principles that are universal to all websites.
Abhijit Sarkar heads the Capital Numbers Design Team. If not the largest, by far, the team is the most talented in the city. Sharing his early childhood memory, since when his urge to become a designer grew, Abhijit shares, "My father was a renowned personality in Kolkata Ad world during the 80-90s decade. Towards the end of 90s he felt the need of digitization and started adapting to digital platforms. One day he bought a book on web design principles. I was graduating at that time and also pursuing Multimedia courses. On a Sunday afternoon, lazily I picked up the book to read. I still remember the title copy on first page "Never ever design for yourself" Although I do not remember the name of the book today, I remember those lines. Fundamentally, that is the main principle I followed for 10 years of my design career and here in Capital Numbers".
Capital Numbers offer a wide range of design services starting from Logo to Website Designs, Web Apps to Hybrid Mobile Apps, Newspaper Ads to Hoardings, Video Production Designs to Graphics for Digital Marketing.
For any time of medium or artwork, these are are the Web Design Best Practices followed at Capital Numbers: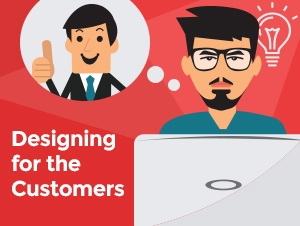 Designing for the Customers: As I stated above, "Never design for yourself", we do follow the same while we are designing for our clients. While we start the work, we think of the design from a customer's view point. We take a reverse approach and many a time we also make our client partners think the same. We cannot just start designing on blank canvas with 0 home work. We study the target market thoroughly – the age group, economic background, geography and so on, before starting to design. This is why our designs for a wine production company is not same as that of for a Day Care School.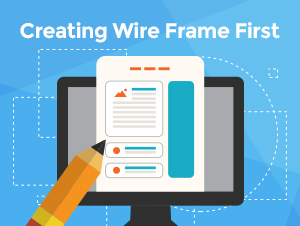 Creating Wire Frame First: Once all the research work is done, we create the wire frame before starting the design. It saves our and our client's time. The process is simple – our designers create the wire frame, discuss with the client, get feedback / approval and then start the actual artwork. It always works – for any artwork, any size, simple or complex projects. It saves time.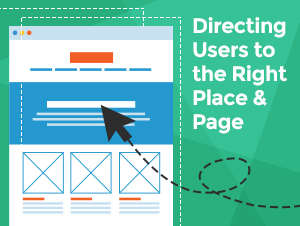 Directing Users to the Right Place & Page: Our designs don't leave a visitor mid-way to decide where to click. We always highlight the most important elements of a web page, so that users know where to go. We use CTAs most effectively to generate / improve leads.
Using Contrasts Wisely: A website may have a cross section of visitors. It may be hit by kids and grandmas alike. We maintain proper contrast to improve readability, dynamics and rhythm of our designs. We wisely choose type size, type setting and weight to make the design appealing for a cross section viewers. Sometimes our designers pretend to have low eye sight to analyze his / her own design before sharing it with clients.
The Minimalist Approach: There is a famous quote by Antoine de Saint-Exupery – "A designer knows he has achieved perfection not when there is nothing left to add, but when there is nothing left to take away". We at Capital Numbers,follow this rule left, right and center. When designing websites, keep our temptation low to add "more stuff". We analyze the purpose of each elements we have inserted in the design. For every element we fail to justify the necessity, we remove it. We let our artwork breath.
LIVE Size Preview: This is a Must for us! If we design UI for mobile, we test it in a mobile size view, like wise for social marketing graphics we design the graphic on screen shot of that specific social media and never on white Photoshop canvas.
It is needless to mention about the importance of CN standards that we maintaining through all our artwork. We follow these standards in all circumstances – that's why the check list glitters on our wall.
(Input from Abhijit Sarkar, Head of Design Team, Capital Numbers)
Comments
comments