Capital Numbers Helps Make Your Brand Credible With Expert Web Development and Design
Capital Numbers has had more than 1,000 satisfied clients since 2012. With our team of 300+ expert developers, we provide excellent web development, custom software development, mobile app development, and more!
With 48% of people saying that a company's website is its #1 indicator of credibility, web development is more important than ever for businesses looking to succeed, and we let our results speak for themselves.
Our client reviews demonstrate our excellence in web design better than we ever could. A few of our clients have recently left us reviews on Clutch, a B2B ratings firm in Washington, D.C., which connects businesses through reviews. Thanks to our clients, Clutch has ranked us as one of the top web developers in the world!
Our managing director has a few words regarding our accomplishments:
"Positive online reviews by our present clients is a real competitive advantage. For our prospective clients, online reviews help separate the wheat from the chaff as it helps them in choosing the right development partner. That our clients are willing to spend time on phone interviews and answering detailed questionnaires shows that they are loyal to our business, and we take pride in the fact that we did an excellent job for them. We work hard to meet our clients' expectations, and we're thrilled to hear that we hit the mark for them." – Mukul Gupta, Managing Director
One of our happy clients is a digital agency that needed web design and development services. We augmented a design and development team with a focus on WordPress to provide the company with data-driven results.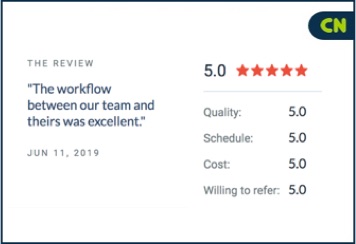 We have helped the company reach important deadlines for its website, and we were happy to help!
"What I love most about Capital Numbers is their willingness to learn the process and take the time necessary to understand our needs." – VP of Operations, Digital Agency
This is just one of our many clients, but it gives you a glimpse of the kind of service we provide!
In addition to Clutch, you can find our work on The Manifest, a business news site that posted us as one of the top 10 software developers in India!
We are also on Visual Objects, a unique platform for creative design firms, which has posted our portfolio items such as reviews and a company biography.
CAPITAL NUMBERS
Capital Numbers counts impressive brands among their key clients. So it's no wonder that this India- based firm has achieved widespread success in a wide range of industries for their targeted web development work.
One example of their web development success comes form a globally recognized brand. Capital Numbers helped them revitalize their materials to stand out in a crowded market and leave a powerful impression on more customers than even before.
We want to thank our valued customers once again for letting us make their visions come true! Every client of ours is a business partner, meaning we grow and learn together every day. If you are interested in our services our more of our projects, come by our website and get in contact.
Comments
comments