Ecommerce Trends for 2015
Million became billion for e-commerce business in 2014. The year experienced some major changes in the e-commerce scenario. Globally there was a sharp growth in the business resulting into formation of some very successful brands. In India acquisition of largest fashion e-tailer were observed like Myntra, Flipkart, Jabong, Zovi etc. It can be easily predicted that e-commerce will remain one of the most sought after business for fashion, financial services, real estate, infrastructure and several other industries alike.
Lets check how the Ecommerce business if going to shape up in 2015: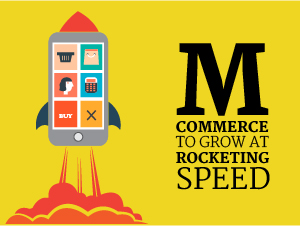 Mcommerce to Grow at Rocketing Speed
With most retailers to offer mobile shopping platforms, 2015 will experience a boom in mobile e-commerce. In order to trap more customers, now e-tailors have already started developing mobile sites. This trend is predicted to show a sharp growth in 2015. More and more customer browse internet through a mobile device that is leading them to instant buying.
Our Prediction: Every 7 out of 10 customers will use a mobile device to shop
Magento-2 to have Bigger Market Share
After a long wait from 2011, Magento 2 has finally hit the market. It is expected that this Ecommerce platform will have a huge market share in 2015, followed closely by WooCommerce. The new version of Magento will change the landscape and offer a diverse shopping experience to users. Magento 2 will be using HTML 5, CSS 3, PHP 5.4 and 5.5 and Require.js and will help pages to load faster.
Our Prediction: There will be a huge switch from other Ecommerce platforms to Magento 2
An Application for Everything
Even until mid 2014 consumers were using their mobile devices to research on products they wanted to buy. The gradual shift of purchasing through the mobile itself has already started taking place towards the end of the year. The year 2015 will be the year of mobile applications. There will be apps making it all the more easy for you to shop through your mobile.
Our Prediction: There will be a resurgence of enhanced versions of already launched apps
More Benefits from Enhanced Ecommerce
There will be simplified version of Google Analytics 'enhanced ecommerce' helping Ecommerce business owners to properly take off. This new add-on by Google helps to compare add to bag rates within and across all categories of products, to see click-through rates available on products in search as well as category pages and manage returns and promotions.
Our Prediction: Enhanced Ecommerce will become more user friendly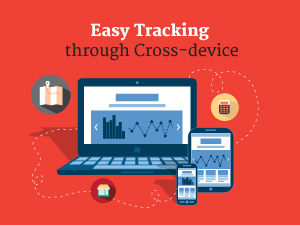 Easy Tracking through Cross-device
Tracking through multiple devices will make a huge difference. The usage of cross-device tools to track how regular customers switch between devices and how many customers buy using all the three devices will bring up interesting results. Tracking other things like basket size, time of day and first purchase will help businesses to take strategic decisions to improve sales.
Our Prediction: Cross-device tracking will make a huge impact on Ecommerce business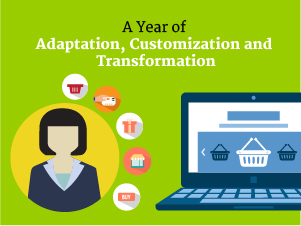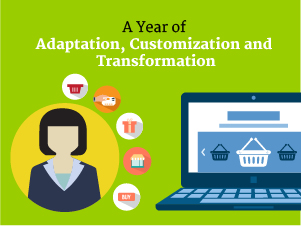 A Year of Adaptation, Customization and Transformation
Customers these days have become extremely well informed. In order to match the demands of such hyper-empowered customers one needs to adapt to newer technologies and customize their Ecommerce platforms to offer a much superior experience to buyers. Ecommerce business is expected to give a whole new transformed experience to consumers.
Our Prediction: Transformation will be the most significant part of Ecommerce business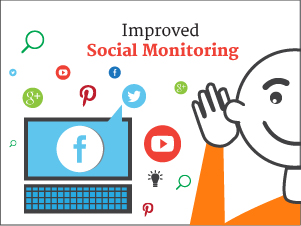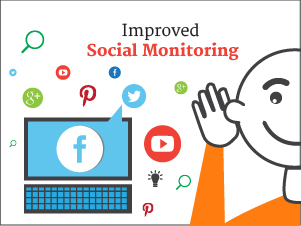 Improved Social Monitoring
To keep a track of what customers want and how they feel about your brand, social monitoring is important, which is predicted to grow at large in 2015. This will help retailers and brands to meet customer's demans and gain market share faster. Brands are expected to respond quicker than before to their growing customers needs and respond with end-to-end logistics flexibility.
Our Prediction: Social Media to play an important role in Ecommerce business helping retails to monitor customers needs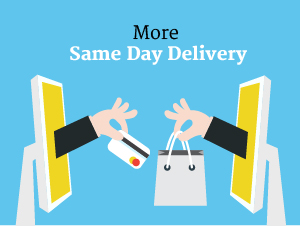 More Same Day Delivery
Already few known brands such as Amazon and Flipkart have started same day delivery services to grab a bigger share of the market. For brands that delivers in 3 or more days, will become difficult to meet their customers demands. Consumers will not only look for accuracy at check-out but receive their products on the same day. This is probably the biggest strategic advantage that any brick and mortar store has over online stores.
Our Prediction: Improved and faster delivery
Comments
comments