Capital Numbers Wins The Manifest's Most Recommended App Developer Award for 2021
Capital Numbers is proud to have won The Manifest's Most Recommended App Developer Award for 2021. We are delighted to be felicitated with this award which serves as a seal of our customers' faith in us.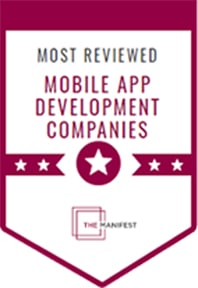 The Manifest Award celebrated the top 15 B2B companies in India that have received positive reviews on Clutch in the past year. Capital Numbers feels honored to be in the top 15 that have received the maximum number of new reviews from customers on Clutch. We've earned an increasing number of fair and honest reviews for our outstanding services in Application Development and Staff Augmentation areas. Our efficiency in project management, competitive prices, and overall customer satisfaction rate have helped us earn this top position in the B2B space.
To be recognized among other successful app developers in India is a matter of great pride for Capital Numbers. Our team's perseverance and technical expertise have been instrumental in helping us achieve this award.
Right from our inception in 2012, we've consistently helped our customers run businesses at their best. We've tapped into our mobile and web app development expertise to enable our customers to scale.
Despite ups and downs, we've always ensured the best product quality. We've catered to unique customer demands entailing cutting-edge technical know-how. Our tailor-built software solutions have propelled growth for companies, big and small.
Over the years, we've worked with some of the finest brands, including Colart International Holdings Limited, Get Tools Direct, MisterFixe, Inpel, and Like Media Group. Our innovative solutions have helped our customers unlock growth and expansion.
Apart from handling end-to-end software development, we've also provided staff augmentation services for specific developmental stages. Even against global crises, we've offered sustainable solutions to future-proof our clients' businesses. Our timely responses and transparent workflows further reinforced our customers' trust in us.
We've delivered over 2500 successful projects for Fortune 500s, SMEs, startups, and established brands within a short time. We've not only attracted new customers, but we've also had repeat customers who've relied on us through thick and thin. The Manifest Award stands a testament to our customers' confidence in us.
We aim to continue being the reliable partner that global businesses can count on. We look forward to more fruitful collaborations where we can help our customers digitally innovate and thrive.
If you are looking for a trusted collaboration for your software project, get in touch. Our experts will provide you with a FREE consultation before you kickstart your project.
Comments
comments