7 Key Mobile App Technology Trends That Will Reign 2022-2023
Mobile apps are fast-changing the digital landscape. This is due to the introduction of cutting-edge technologies like 5G and edge computing and our changing attitudes toward apps. We are entering a period when mobile applications and, by extension, mobile devices will become integral to our society.
To remain relevant in today's cutthroat digital industry, you need to keep up with current trends in mobile app development. Leaving behind is the last thing you want to happen, yet this is not a concern. We have your back!
The following article will look at the seven essential mobile app technology trends you must know for 2022-2023.
Top Mobile App Technology Trends in 2022 – 2023
1. 5G
With lower latency, faster data transfer, and speeds, 5G will change mobile apps and app development in a way we've never thought before. According to a recent study, 660 million smartphones worldwide are expected to be 5G-enabled by the end of 2022. So, it is no wonder that widespread adaptation of 5G will result in higher quality apps.
The fifth generation of mobile connectivity will –
Improve app functionality, allowing developers to add more features without hurting the app's performance.
Make integrating augmented reality (AR) and virtual reality (VR) easier and faster
Improve the speed and security of mobile payments
Boost mobile streaming
2. Augmented and Virtual Reality
As AR and VR offer an immersive experience, they're expected to play a significant part in mobile apps in the coming year, especially for entertainment, gaming, live streaming, and travel and tourism. By 2023, the AV/VR market is expected to reach $160 billion, a considerable increase from the $12 billion it reached in 2020.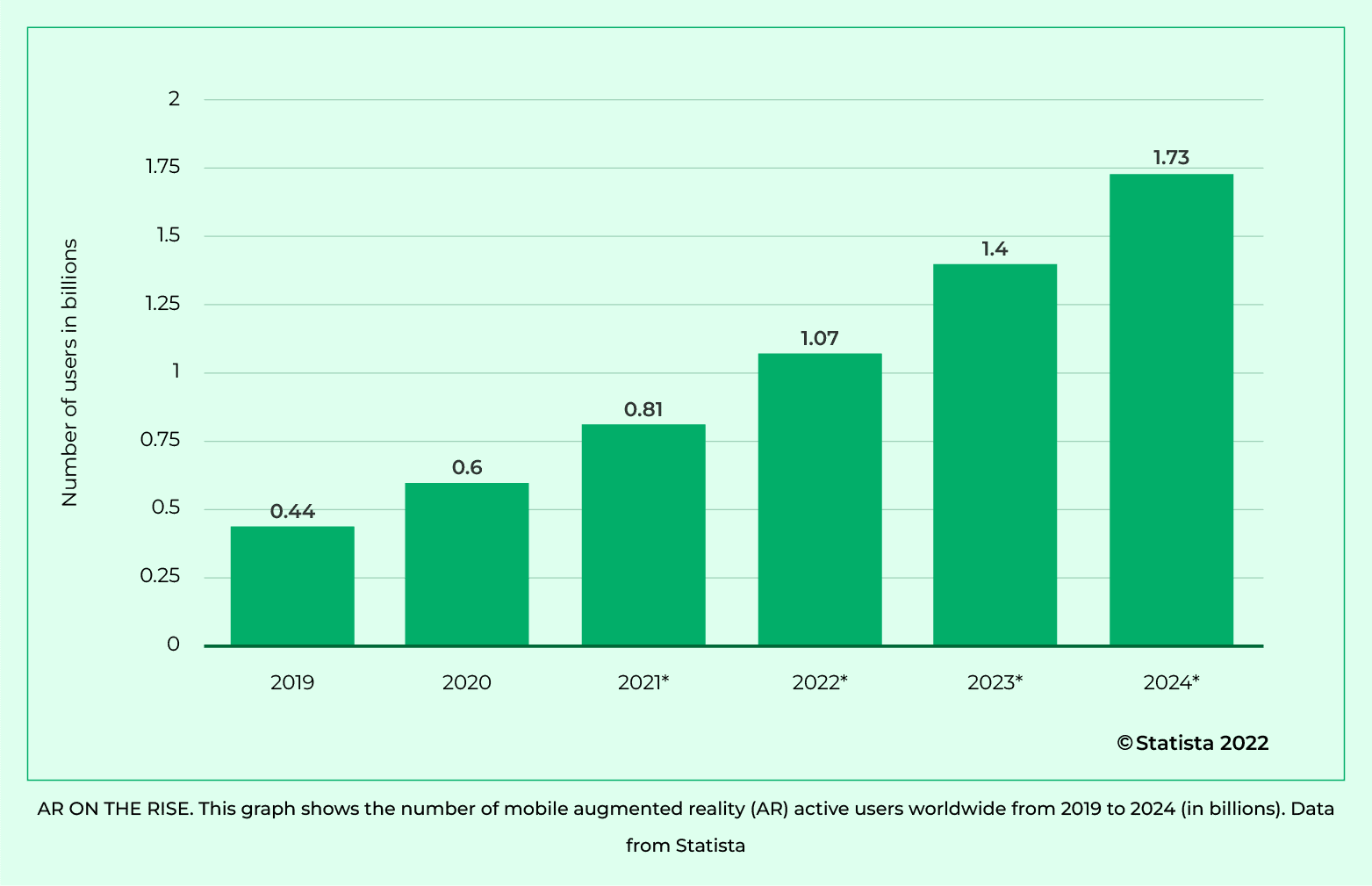 In e-commerce, AR and VR personalize the user experience by enabling shoppers to "see" how things fit into their lifestyles. Nowadays, mobile apps use AR/VR to encourage users to try:
Clothing
Makeup
Eyeglasses
Hair colors and styles
Furniture and rugs
Paint colors
But before you invest your money, time, and space in integrating AR/VR technologies into your business model when considering android or iOS development, research to know how worthy it will be. Otherwise, all will go in vain.
3. M-commerce
Mobile commerce apps cater to the growing number of mobile users who prefer to shop directly through apps over web pages.
In 2021, 79% of smartphone users globally made online transactions using mobile devices. By 2022, nearly 73% of all e-commerce will have been m-commerce.
Mobile retail apps have been shown to
Boost customer engagement
Improve conversion rates
Grow revenue
Retailers who want to stay competitive should start developing their mobile commerce apps immediately.
4. Beacons
Introduced in 2013, beacons personalized users' shopping experience while allowing retailers to understand buyers' shopping patterns better.
The beacon market is growing at an annual rate of around 60%, and it is predicted to reach $56.6 billion by 2026.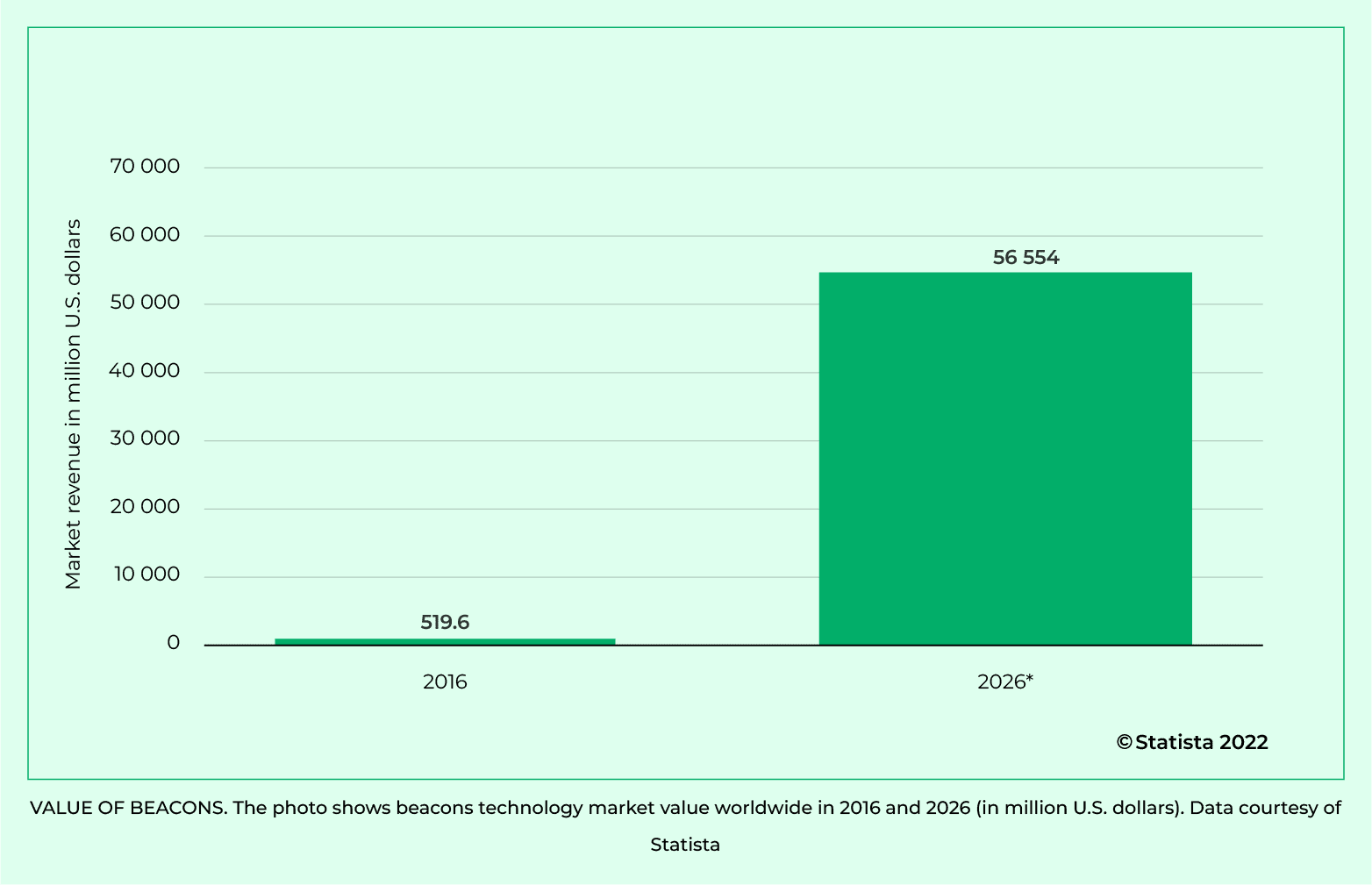 Beacon can
Inform app users of an ongoing promotion or exclusive deal as they pass a beacon.
Assist retailers in tracking customer activity in-store.
Enabling mobile point-of-sale payments, increasing convenience and customer retention.
A high-quality app may persuade potential customers to buy more than they had initially planned to by offering them different possibilities and choices through effective advertising and persuasion. Hopefully, the purchaser will also feel good about making the purchase.
Beacons can help facilitate this progress. So, if you are considering mobile app development services, this is something that you don't want to miss.
5. Artificial Intelligence and Machine Learning
The field of artificial intelligence, known as machine learning, speeds up app development while reducing human error. Mobile apps become more intelligent with AI-powered solutions, which boost their efficiency and enhance user experience.
Businesses dealing in Software as a Service (SaaS) or Software as a Product (SaaP) can also be smart about using AI.
AI can significantly improve your SaaA or SaaP mobile apps with a range of features, including:
Face, test, image, speech, and emotion recognition
Predictive analysis to customize recommendations
Search and navigation improvements
Photo animation
New immersive experiences
Online payment fraud detection
With technological advances, automation continues to expand, saving companies time, money, and energy. It is an excellent place to start if you want more power in your industry.
6. Wearables
Developing a mobile app that offers an exceptional user experience on wearables, including smartwatches, smart rings, smart clothing, and even implantables, is an effective way to stay ahead of the competition.
The number of connected wearable devices climbed from 325 million in 2016 to 722 million in 2019. It will likely surpass 1 billion by the end of 2022.
Integrating mobile apps with wearables provide the ability to
Receive and view messages and notifications quickly
Monitor a person's health parameters
Enhance customer service by collecting buyers' behavior histories
7. Instant Apps
Instant apps or Progressive Web Apps (PWAs) are similar to mobile web pages with app functionality.
Instant apps load faster than conventional apps, rely less on the internet, take up less space on the user's device, avoid the app store, and receive automatic updates. They are currently available for Android devices.
Instant apps help businesses –
Stay ahead in the competition.
Boost consumer involvement
Improve conversion rates
Increase their sales and revenues
So, if you opt for android development, you can consider instant apps.
Also Read: Top 7 Benefits of Hybrid Mobile App Development for Enterprise Mobility
Final Thoughts
Staying competitive in today's mobile-centric environment requires you to keep the 2022-2023 trends in mind when developing an agile new app or refining an existing one. Incorporating the relevant top trends into your mobile app development process is the best way to help your company succeed. And to do so, you need to hire mobile app developers.
If you are wondering how to get in touch with expert developers, opt for Capital Numbers. We are a software solutions service provider aiming to build native and cross-platform Android and iOS mobile app solutions with promising developers. So, without waiting any more, book a call with the experts, embrace these trends and make this year a great one!