India's Highest-rated Chatbot Development Company
Hire chatbot developers for your personalized chatbot
ISO 9001 & 27001 Certified with over 98% 5-Star Rating

Are you interested to learn more about our AI chatbot services?
What happens after you contact us?
Our solution experts will answer your questions in a secure online meeting. You will get good information and honest advice in plain English. You are then free to choose how to move forward.
Our clients include 150 Global Brands, Silicon Valley Founders
Custom personalised chatbot development
You aren't getting a second hand program rolled out as a kind of one-size-fits all solution; you're getting a custom, personalized chatbot designed just for you and your customers. We'll develop anything, including chatbots for eCommerce, hospitality and travel services, retail, marketing, banking, and much more.
Our Chatbot Can

Manage your business's supply chains and generate purchases

Help you analyze market trends by remembering customer habits

Become a virtual assistant to you, your teams, or your customers

Provide constant customer service by answering questions about your company, your inventory, or the benefits you provide.
The options are unlimited, because we tailor each bot to your specific needs.
By using your chatbot, your customers will have an easy way to get the information they need, no matter what service you provide. No more call centers. No more wait times. No more navigating difficult websites. They'll love you and your business.
We can build a chatbot suited just for you

Keep customers satisfied with your business, because of your quick response and 24/7 availability

Keep your team's workflow as efficient as possible.

Gain data-driven customer insight to increase sales.
We can build a chatbot for all of the above, and more. Just tell us what you want.



How we create your bot
Here's what happens when you order a custom chatbot from us. Let's name it Hal. We'll take Hal through the development cycle, from start to finish, and you get the polished end result.
We gather market requirements for Hal to discover who it's going to help, and how.
We identify Hal's features and functionality, so it's equipped to give your customers the benefits they need.
Hal is assigned conversational scripts to make sure its conversation abilities are similar to a real human's.
We begin to engineer and design your new bot.
To develop Hal, we'll cycle between coding and testing, fine-tuning it so its capabilities approximate real human conversation.
When it's done, Hal will have been thoroughly tested for quality assurance.
Finally, once Hal is built, it will be deployed to a stable, hosted environment and prepared for submission to various app stores.
We take Hal through the rigorous approval process for each messaging platform.
Once Hal is published, it will be monitored, using actual conversational scripts, to make sure it's doing exactly what was intended.
It's time to let everyone know about your new bot.
Finally, we'll watch how Hal does in conversation to see if there's anything we can work on to improve.
The end result is a full-function, highly-capable chatbot that will make money for you, while making your customers appreciate your service.
It's what your customers want
They'll appreciate the convenience and pick you over the competition, every time.
Because they have easy access to your services directly through messaging apps like Facebook Messenger, Kik, or Slack, they'll have every reason to pick your services over the competition's.
Plus, they'll enjoy instant no-hassle customer service.
3 Steps To Build Your Custom Team Of Chatbot Developers
03
Scale On-demand
We also let you scale on-demand, grow your team during high-volume periods, and ramp down team size when needed. In short, we make it easy for you at every step like a true partner on whom you can rely.
Why Hire Dedicated Team from
Capital Numbers
We Match Your Needs

By partnering with Capital Numbers, you'll get access to our 700+ in-house developers and will be able to fill any role immediately.

You're in control

You get an offshore chatbot development team entirely under your control but without the administrative issues and hassles. You control your team's work, and all processes are fully transparent, so you know exactly who's doing what, when, and why.

Work with Experts

We'll help you hire chatbot developers with a deep understanding of Python, NLP, Dialogflow, Spacy, AIML, and other related technologies.

Hassle-free production

Our HR specialists, office managers, and system administrators make sure your development team's working conditions are perfect.

Low Attrition

Corporate outings, regular training, engagement activities, career counseling, grievance handling – our HR veterans will sure every developer you hire with us stays motivated to try hard to make you successful.

Zero Overheads

Payroll, taxes, benefits, sick days, and vacations for your team – we've got you covered.

50% Cost reduction

Our clients have been able to save up to 50% in labor costs.

4.8/5 Rating on Clutch

Our clients highlight our ability to build great personal relationships with them, except for the excellent code quality.

75% of the company – senior and middle developers

We invest in attracting the best talent from the market. We hire only strong middle and senior chatbot developers and no juniors.

ISO 27001 Information Security

Capital Numbers adheres to ISO 27001 certified information security standards to ensure that your IP and investment are protected.
Case Studies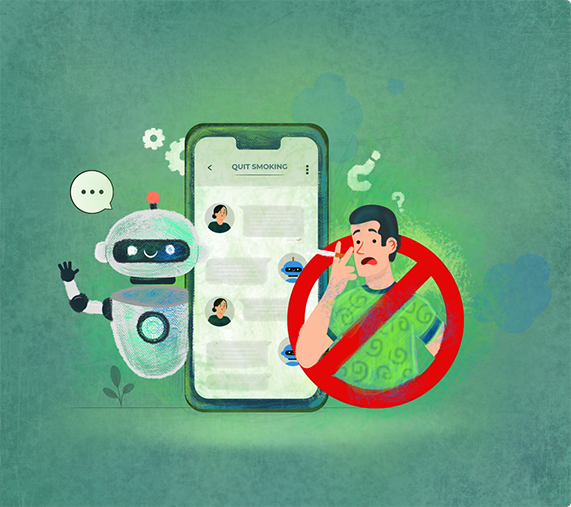 CASE STUDY
Chatbot – Quit With Bella. An AI based app that helps people quit smoking through friendly conversations
Tech Stack: iOS, Swift 3, Microsoft Bot, Cosmos DB, Node.js
Quit with Bella is a chatbot integrated with Alexa, Amazon's virtual assistant, to help people stop smoking. It gives contextual advice to people trying to beat a smoking habit.
Read More
CASE STUDY
How We Helped Echo with a Scalable Translator App that Keeps Language Barriers Away
Tech Stack: HTML, CSS, React, Jquery
Echo wanted a high-end mobile app which would power text-to-text and voice-to-text translations on the go, and help language barriers to crumble away.
Read More
Frequently Asked Questions
Chatbots are artificial intelligence systems that we interact with via voice or text interfaces. To develop a chatbot, it's important to map out the conversational flow (i.e., the questions and follow-up questions customers ask). Next, it's necessary to deep dive into existing conversations and crowdsource chat collections. After this, the developers should infuse personality into the bot by either using colloquialisms or a more laid-back communication style, depending on the company or brand. Lastly, developers must use prototyping tools to test the feasibility and usability of the chatbot and fix errors before finalizing it permanently.
The cost of developing a chatbot largely depends on whether you want to build it in-house or hire an agency for it. Hiring an agency frees you and your team up for your core business projects. Capital Numbers provides you multiple pricing options to build your chatbot. You can either go for the fixed-price contract that starts at $20 per hour. Or you can hire a dedicated developer (starting at $2400 per month) to build your bot. We sign an NDA before starting any project to maintain strict confidentiality of your business-critical data.
This depends on the type of bot that you are planning to build, for example, customer service bot, website bot, registration bot, transaction bot, lead generation bot, etc. The time taken to build a bot also depends on factors such as backend development, integration of third-party modules, integration of NLPs with ready-made APIs, using conversation intelligence to create human-like replies, and aligning bot conversations with core development purposes.
The chatbot development services that we offer include chatbot architecture, conversational design, natural language processing (NLP), custom chatbot development, integration with enterprise-grade systems, chatbot testing and deployment.
Yes, you can hire qualified and highly-skilled chatbot developers from us (starting from $2400 per month). If you want, you can manage your developers directly, assign tasks, and review the output. Alternatively, we are happy to offer a free-of-cost Project Manager who can act as your single point of contact while managing multiple developers on your behalf.
To check the authenticity of a chatbot development company, you can check its client testimonials on 3rd party platforms such as Clutch and GoodFirms. You should also have a look at its Google reviews, awards, certifications, client partnerships, and social media profiles. This will give you a clear perspective on the company's reputation and position in the market.