How Capital Numbers is Using AI to Drive Customer Satisfaction
Powerful "Smart System" Enables Us to Be
Proactive, not Reactive.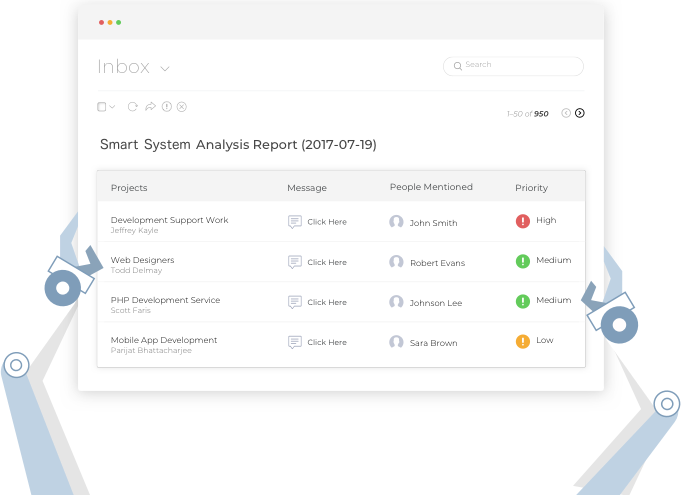 Our clients include 150 Global Brands, Silicon Valley Founders
Advances in AI have allowed us to circumvent one of the most chronic issues agencies face: managing client dissatisfaction.
As the world of outsourcing and remote work progresses, C-level execs and managers are forced to operate at the outer limits of what's humanly possible. Once you get to a certain number of employees and projects, there simply aren't enough hours in the day.
Almost all agencies face this problem… and if you've ever worked with an agency who hasn't solved it, you'll understand the frustration of feeling unheard or overlooked.
Perhaps if Capital Numbers didn't care about client satisfaction, we would have a lot less on our plate! But the fact is, we care deeply, and we constantly strive to reach the highest level of client satisfaction through delivering quality work on time and under budget. In fact, every single day, we have only two questions: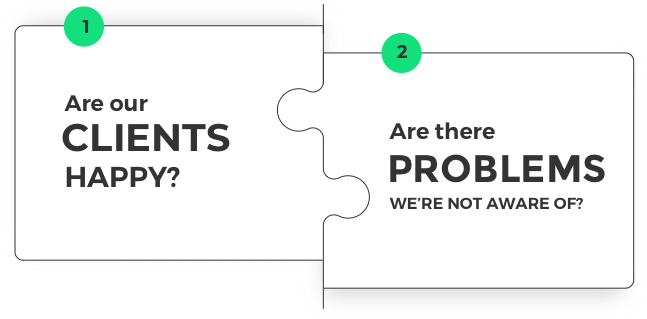 These questions feed into one another. If there's an unhappy client, it's because there's a problem we're not aware of. Conversely, if we have problems we don't know about yet, they're going to show up later and cause project delays and unhappy clients.
It became clear that we had to develop a system to get in front of problems before they affected projects.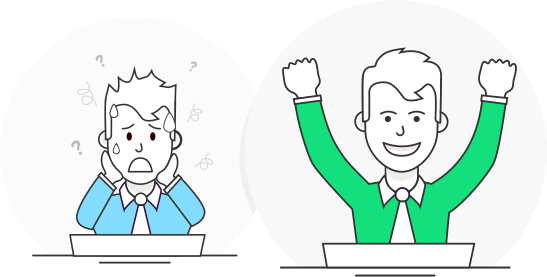 Taking Project Management From
Reactive to Proactive
We use TeamWork almost exclusively for project management. It's a good platform, but the overwhelming quantity of messages meant that reading all of them was impossible.
It's true that we have very experienced and talented managers to trust with delegated tasks. When we did identify the messages that needed our attention the most, we could deploy managers to fix the problem. But sometimes, due to human error, certain messages were overlooked. It's also possible for our managers to procrastinate on a given issue or decide against asking for help. Clients would sometimes wait on a response for several days and get concerned.
Although did address the most important concerns, we wanted to be more effective. Instead of receiving client complaints, we wanted to seek out and eliminate small issues before they could become big problems. In essence, we wanted a system that could be proactive, not reactive. To be proactive would allow us to address client concerns much quicker, keep clients happy, and prevent project delays.
To this end, we sought to automatically analyze and prioritize the messages in TeamWork on a daily basis, so we could avoid wasting time on non-issues and focus on the highest priorities.
Better & Smarter:
AI Communications Monitoring
Our answer to the problem of keeping clients happy was to do what we do best: develop a solution.
Our excellent developers built an AI-empowered "smart system," to identify and fix issues before they delay a project. Not only does this save us time, but it also keeps our clients operating on budget and within expected deadlines.
This AI analyzes all messages on TeamWork, then sends the management team an email at the beginning of the day with a list of priority messages. This way, everyone is on board and everyone knows exactly what issues need attention.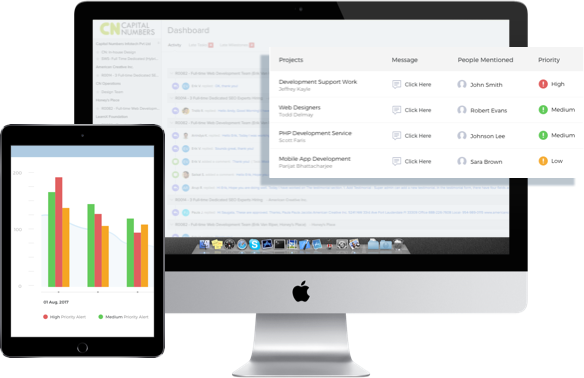 We consulted with top psychologists to enable the AI to analyze and identify sentiment, tone, and emotion in messages. It then ranks each message based on fifteen different parameters and sorts them from most to least important.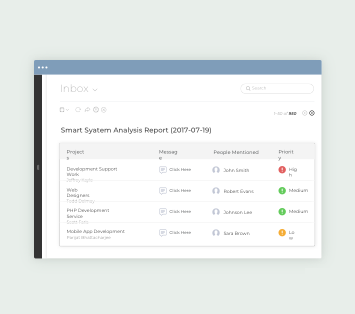 Sentiment Analysis
Is the message overall positive or overall negative? While positive messages are always nice to receive, we're concerned with negative messages that could indicate a future problem.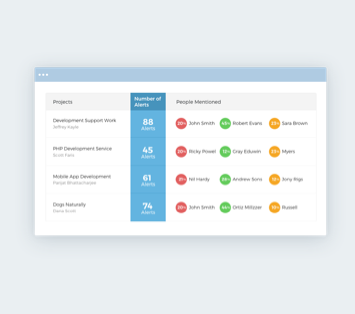 Emotion Analysis
If there is a negative sentiment, what's the overriding emotion behind it? Is the client angry, frustrated, impatient? This analysis will allow us to assess the severity of the situation and respond appropriately.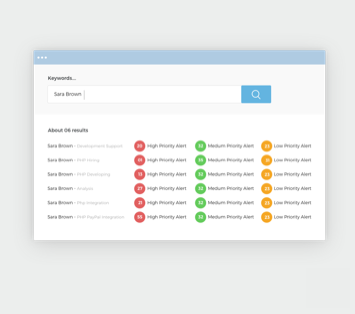 Tone Analysis
Finally, the program performs a tone analysis to determine how certain they are about what they're saying. If they're very confident about an issue, we want to prioritize that.
Key Benefits
Systematizing our message prioritization greatly reduced the human error from manually sifting through and trying to prioritize hundreds of messages. The benefits to us include time and energy savings so we can focus directly on the issues causing the greatest concern. But the benefits to you are even greater:

Concern Prioritization
Wouldn't you like to know, with absolute certainty, that you'll be able to fix small issues before they turn into big problems? Knowing how powerful Alert Box is will give you peace of mind and prevent you from wasting your energy on things that don't need your attention.

Personalized Training & Mentoring
If some unforeseen issue arises, this system allows us to give extra training to your team members so they can deal with it right away. We can quickly get your team up to date on any additional skills needed to address your problems, without having to wait for them to figure it out themselves.

Peace of Mind
We're very aware that outsourcing can be stressful. However, this system should take a lot of the uncertainty away. Imagine the sense of security from knowing all of your concerns will be addressed the day of or the day after you bring them up. This lifts the "mental weight" many people get from outsourcing and allows them to focus on more important issues.
Conclusion
Although we have very good managers, team members, and execs, the scope of our work means it's not humanly possible to catch all problems before they arise. That's why using AI to analyze and rank our messages is so helpful to our clients and us.
By prioritizing your messages and making sure your biggest concerns are addressed immediately, it keeps projects running efficiently. It eliminates the risk of miscommunications, lifts stressful mental weight, and helps us fix issues before they have the chance to become big problems.
The result: an easy, painless outsourcing process that respects your time and budget and empowers us to produce the highest quality product.
Case Studies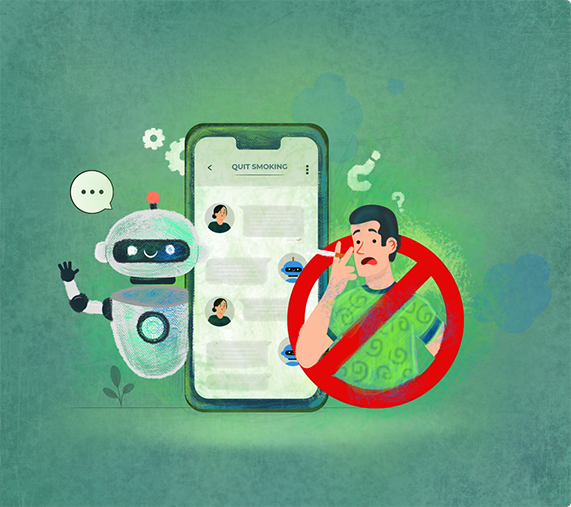 CASE STUDY
Chatbot – Quit With Bella. An AI based app that helps people quit smoking through friendly conversations
Tech Stack: iOS, Swift 3, Microsoft Bot, Cosmos DB, Node JS
Quit with Bella is a chatbot integrated with Alexa, Amazon's virtual assistant, to help people stop smoking. It gives contextual advice to people trying to beat a smoking habit.
Read More
Great Reviews
97 Out Of 100 Clients Have Given Us A Five Star Rating On Google & Clutch

Capital Numbers
5

/

5
James Burke
Managing Partner, Consensus Interactive
"They're very willing to assemble the team that we ask for if we have certain preferences."

Capital Numbers
5

/

5
Jorge Quintero
COO, Blue Lagoon Jets
"Their fast response was impressive."

Capital Numbers
5

/

5
Bernice Ang
Founder, Thrive Life Consulting
"Excellent attention to detail and responsiveness."

Capital Numbers
5

/

5
James Morris
Co-Founder, StudioSesh, Inc.
"I was impressed at the speed, cost, and talent that they have at Capital Numbers."

Capital Numbers
5

/

5
Marcello Rongione
CEO, WeOptimize Ltd
"They respond so quickly to thoughts and always try to do the best they can."

Capital Numbers
5

/

5
Scott R. Wells
Visionary, ConversionFormula
"Capital Numbers has been a trusted resource & partner for years."
Read More Reviews
We'd Love To Hear From You
Get Custom Solutions, Recommendations, Resumes, or, Estimates.
Confidentiality & Same Day Response Guaranteed!
What can we help you with?
Our Consultants Will Reply Back To You Within 8 Hours Or Less
Shovan

Dibakar

Indrajit

Avik

Avishek
25+
Awards in the last 9 Years
150+ Five Star Reviews
On G2, Clutch, Google and GoodFirms