Winter Sun, Cricket, Gastronomies, Music… A Fun Day at Capital Numbers
It is believed that winter is incomplete without getting soaked under the sun. And the best way to do so, is by joining a picnic. January 10 gave a welcome break to the employees of Capital Numbers.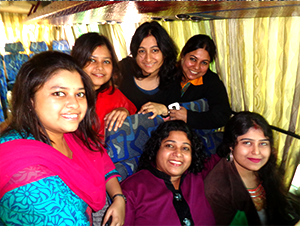 Over 100 attendees boarded the bus early in the morning to set off for their destination, about 30 KM from Kolkata. The morning was misty and cold. It looked ash-grey, but certainly not the spirit.
Breakfast was served as the wheels raced in full speed, brassy music played and people danced and sang out loud. It took a little over an hour and a half to reach the venue where the employees were greeted with a fuming cup of tea as they got down from the bus.
After a little chit chat, wickets were laid by the pitch, trophies set on the stage, scoreboard placed and the much awaited cricket match began. 4 teams from each department (Development, Design, Mobile and SEO) took part in the game of Cricket – a religion in India – the game that unites the whole nation irrespective of religion, cast and creed.
The first round had SEO facing and winning against the Mobile team and Development team winning against Design team to face SEO in the finals. The cricket match was won by the SEO team named as 'Shanghatik SEO'. There was a huge roar in the ground when the last ball was hit.
Vipul Gupta, Director Finance, handed over the Winner and Man of the Match trophies to the winning team's captain – Saugata Chakraborty.
At the occasion Mukul Gupta, Managing Director, congratulated all the players who participated in the match and urged them to take up fitness regime on a regular basis. "We all must take time out to indulge into fitness activities regularly. Exercising in the morning gives us a lot of energy and keeps our mind fresh. While brisk walking is good, but if possible one should join a fitness club or hit a gym at least 5 days a week", added Mukul.
Sayantani Moullick, Marketing Assistant, won the title of 'Superstar of the Day' for umpiring the cricket match. She was handed over a trophy and cash prize by Vipul.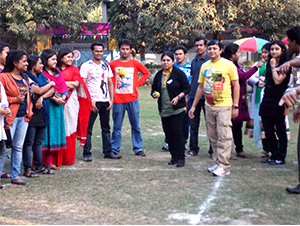 Girls took part in cricket as well as badminton match that followed soon after.
A grand buffet lunch was served in the afternoon featuring Fish Fry, Paneer Pasinda, Salad, Kashmiri Pulao, Mutton Kasha, Chanar Kofta Curry, Chutney and Papad, Nolen Gurer Rasgulla and Ice-cream.
Music played and the entire team shook their legs, banged their heads and jammed together.
While the sun almost set, the team boarded the bus again to head back to the city. The day that was observed through a lot of fun filled activities ended with a promise of achieving success and taking Capital Numbers to greater heights.
Comments
comments