Capital Numbers Recognized by GoodFirms as the Best Company to Work With
With rising competition, businesses with conventional thinking and outdated business models can no longer profitably survive in the market. Innovation is thus the critical need of the hour. That is why every business needs digital transformation through unique software applications that offer extra perks to the users. While numerous companies provide development services, businesses are keen to pick up the top software, web, and mobile app development companies to build custom applications offering enhanced functionality, extensive features, streamlined operations, superior user experience, and a high return on investment.
GoodFirms has recognized Capital Numbers for its broad experience and versatile skills that put the Company as one of the top market influencers through the Leaders Matrix program. It was identified as the "Best Company to Work With." With multiple delivery centers and offices in the USA, India, and Australia, Capital Numbers offers broad-spectrum development and IT services to businesses across the globe, including web application development, software development, digital transformation, mobility solutions, cloud solutions, IoT, AR/VR, blockchain development, artificial intelligence (AI) & machine learning (ML), predictive analytics & big data solutions, and more. Whatever innovative and challenging ideas clients come up with, Capital Numbers converts them into a working and profitable business model.
For 2023, GoodFirms named Capital Numbers as the "Best Company to Work With."
If you are looking for the top software development companies for your next project, Capital Numbers is the best development partner one needs, recognized by GoodFirms Leaders Matrix. Right from its inception in 2012, Capital Numbers has been experimenting with trending and emerging technologies, leaving no stone unturned to create wonders for its clients. The Company believes in growing with its clients and creating success and value for them by delivering exceptional services. Capital Numbers' team takes pride in earning numerous loyal customers by following a customer-centric approach. GoodFirms recently recognized Capital Numbers as the "Best Company to Work With" in 2023.
Capital Numbers – Vision, Strength & Scope
As an experienced software development services provider, Capital Numbers has the competence and aptitude to take end-to-end charge of development projects at all stages. The company ensures that its team communicates diligently with the clients and that both are on the same page. Capital Numbers has gained 259+ clients worldwide, won 50+ awards, and earned 200+ five-star ratings.
Capital Numbers has numerous success stories to its credit. One of its notable projects was a software development project for a client who worked with them for around 18 months. The client was impressed with their performance on this project, rating them a full 5/5.
One of Capital Numbers' clients hired them for a web scraping mobile app development project. The client was thrilled with their work and highly recommended them, mentioning that the company was very professional, supportive, and attentive to their requirements.
"We architect and engineer scalable, high-performing digital solutions to meet our clients' business challenges. Our company is committed to serving clients better, knowing that talent, transparency, good work ethics, and honesty make a company great, but only when employees are empowered, respected, and cared for," says Capital Numbers.
A few reviews of Capital Numbers: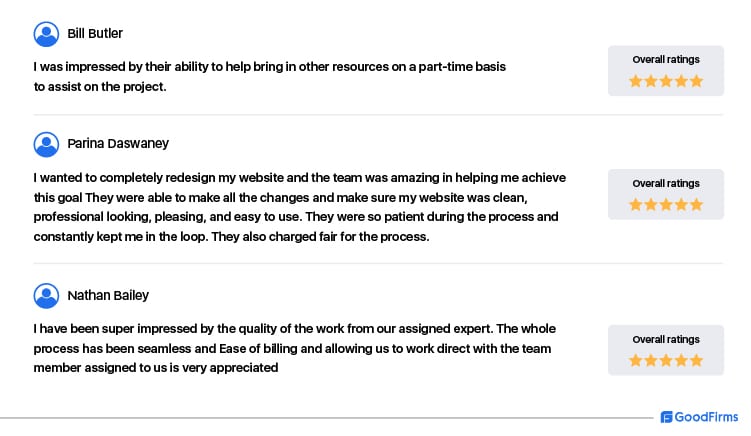 Why is Capital Numbers the "Best Company to Work With"?
To be a trusted development partner, the company needs to focus on clients' needs, innovate, think out-of-box, and develop budget-friendly solutions that ensure easy business success for the clients. Capital Numbers owns all these traits and stands out from others, making them one of the best software development companies globally. The Company provides outstanding services through talent, diligence, and creativity.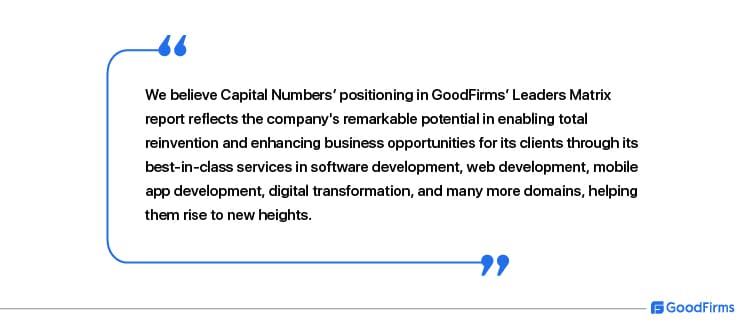 Capital Numbers had to undergo a rigorous assessment under the GoodFirms Leaders Matrix program. The evaluation covered the service landscape, verified client reviews, experience in the domain, market, competitive positioning, and more. This analysis helped reveal strategic information about Capital Numbers' capabilities, competitive differentiation, and market position.
About the "Best Company to Work With" Badge
"Best Company To Work With" is an exclusive program run by GoodFirms wherein the Leaders Matrix companies are recognized with a Badge, an exclusive article about the Company, and a supporting PR. Such recognition stands as a support to developing trust and authenticity within the B2B community. It also allows the participating companies to improve their ranking – ranks higher in the Leaders Matrix categories, receive inbound backlinks from the GoodFirms LeadersRoundtable podcast campaign, and get a certified Badge saying, "Best Company to work with."
About GoodFirms
GoodFirms is a B2B research, review, and listing platform helping businesses accelerate their digital journey and maximize modern technology's value. The company connects service providers with service seekers through a comprehensive and thoroughly researched fact-based list of the best services and solutions. Recognized as the most reliable source for the B2B market, GoodFirms has world-class experience with partners across the globe.