Capital Numbers Named a Top Web Development Firm in India by Clutch
Here at Capital Numbers, we know it can be painstaking for a new company to balance successful operations with implementing effective web solutions to help you get ahead. That's why we're here to help! We create custom software development, web apps, and mobile apps geared to dominate your industry.
In light of our success and impact, we've been named a leading company for web development by Clutch, a verified ratings and reviews platform. They leverage a unique ratings methodology to compare and contrast leaders across a wide variety of industries. Clutch's findings aids interested buyers identify suitable vendors for their projects.
We couldn't have gotten this far without our wonderful clients. They took time out of their day to engage with Clutch analysts to assess our work on a variety of standards. We were graded on our project management, quality of service and deliverables, attention to project timelines, and overall cost-efficiency. We're happy to say we've maintained a wonderful 4.9 out of five stars on Clutch. Take a look at a recent review below: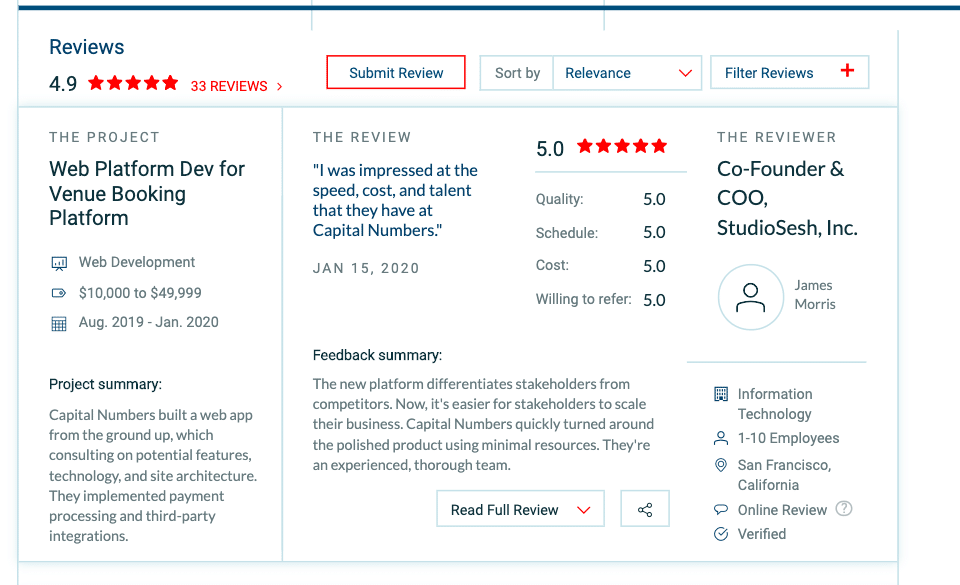 "All our hard work has been channelized to build a strong company and at the end of the day, this award is a testament to our continued success and growth. Our ongoing drive and ambition to create a global presence remain undiminished and this is just the beginning."
– Mukul Gupta, Managing Director, Capital Numbers.
We're proud to receive this recognition and look forward to helping even more clients make their dreams a reality. Drop us a line if you'd like to collaborate on a project with Capital Numbers today.
Comments
comments