Can't Keep Calm! Durga Puja Is Around The Corner!
Kolkata is all set to reverberate with the dhak beats to welcome Maa Durga with pomp and celebrations. The countdown has already begun!
Glamorous pandals are in the making. Awe-inspiring decorations are adorning the city. People are out on the roads for their last-minute shopping spree.
Yes, it's that time of the year when Kolkata gets decked up in all its splendor, glory, and revelry. And each one in the city gets to be a part of this pulsating enthusiasm.
To welcome Goddess Durga and soak in the festive mood this season, CNites donned their traditional attires on the Ethnic Day Celebration at the office.
Needless to say, the women looked graceful, elegant and stunning in sarees and the men flaunted their kurtas with absolute panache and flair.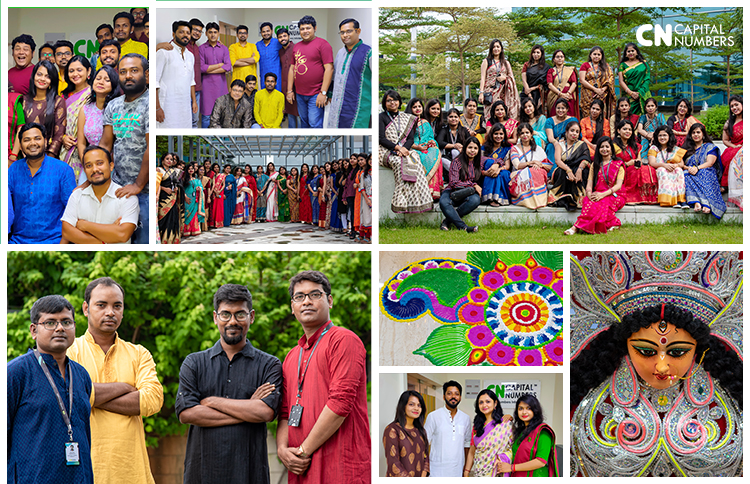 The excitement was palpable. There was a festive vibe in the air. Each CNite joined hands to decorate the office with sparkling lights and colorful rangolis, flaring up the joyous mood even more. This was followed by an event called Know Your Friend, where the CNites had to come up with small and interesting write-ups for their fellow workers.
Clearly, the energy, positivity and fun at CN were perfect to welcome this grand festival with open arms.
And we're sure that you too are all geared up to participate in the biggest carnival of Bengal. So, while you chant, 'Rupam Dehi, Jayam Dehi, Yasho Dehi, Dvisho Jahi,' we, at Capital Numbers, wish you a very happy Durga Puja!
May all your wishes come true! May you be blessed with happiness and prosperity!
Shubho Sharodiya to one and all!
#MaaAschen
Comments
comments