Exciting
Operations Manager

Opportunities Available at Capital Numbers Rated 4.8 out of 5 on

Glassdoor
Job Description
We are looking for Operations Managers who will be accountable for the end-to-end delivery of projects to meet customer needs. As an operations manager, you will report directly to the Director of Operations and will be responsible for the relationships with their customers across geographies. You will be working with project managers and technical leads to ensure projects are delivered on time, and budget and meet customer expectations.
Responsibilities:
Responsible for managing revenue of at least $3 Million using a pool of project managers, tech lead, developers, business analysts, and QA experts.
Ensure KPIs regarding timelines, costs, profitability, and customer satisfaction are met, if not exceeded.
Understanding the pipeline of demand and working with the Director of Operations to ensure an appropriate supply of resources.
Conduct regular account reviews with the clients to uncover opportunities and to ensure that they are happy with the services provided.
Serve as an escalation point for customer concerns if/when they arise
Identify appropriate resolution to achieve client satisfaction in a timely manner
Provide leadership and direction to project team members
Ensure that the right type and the number of resources that are required to fulfill the planned projects are available and in place through cooperation with the Director of Operations.
Must make decisions, such as prioritize relationships to develop, negotiate with customers and overcome obstacles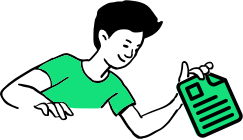 Requirements and qualifications
Proven track record of delivering a collection of projects and products in web and mobile domain.
7-10 years of business development, project delivery, or client relationship management in a technology environment.
Good business acumen and ability to negotiate.
Strong customer orientation and ability to manage customer expectations
Good executive presence
Good financial and people leadership skills
Flexibility to adjust to multiple demands, shifting priorities, ambiguity, and rapid change
Leadership skills to successfully lead large, diverse, and virtual teams.
Work experience in a professional services industry preferred
Knowledge of project management processes
Perks & Benefits
Remote does not mean "distant". At Capital Numbers, you get a competitive benefits package and be part of an award-winning team. Plus, by working remotely, you save more and enjoy a work /life balance.

Competitive salary

Sick and "life happens" days

Paid holidays

Paid parental leave

Paid training programs

Regular Rewards and benefits

Periodic Virtual engagement activities

Opportunity to work on exciting clients

No stressful commute

No cliques (everyone clicks)

No committees or bureaucracy of any kind

Flexible work timings

Competitive salary

Sick and "life happens" days

Paid holidays

Paid parental leave

Paid training programs

Regular Rewards and benefits

Periodic Virtual engagement activities

Opportunity to work on exciting clients

No stressful commute

No cliques (everyone clicks)

No committees or bureaucracy of any kind

Flexible work timings
See all current openings