Exciting
Node.js


Opportunities Available
at Capital Numbers Rated 4.8 out of 5 on

Glassdoor
Job Description
We are looking for Node.js Developers who have experience building back-end services and managing data exchange between the server and user-facing applications. Responsibilities will include the development of back-end logic, definition and maintenance of the database, and maintaining the best possible performance, quality, and responsiveness of the application. You will work closely with the front-end developers to implement their components into the application.
Responsibilities:
Creating and maintaining server-side application logic
Collaborate with front-end developers on combining their front-end elements and components with the server-side
Write high-quality, readable and testable code.
Design and optimize applications for high performance, high availability, and low latency
Work on security and data protection
Incorporate data storage solutions using MySQL, MongoDB, etc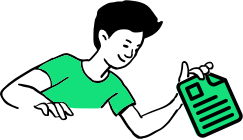 Requirements and qualifications
Expertise in Node.js and the most common packages in the ecosystem (e. g. Express, Nest)
Good understanding and expertise with JavaScript/TypeScript.
Knowledge of Promise, async/await.
Experience with JavaScript unit test frameworks such as Jest or Mocha/Chai
Experience with code versioning tools (Git)
Working knowledge of node.js package management and the tools ecosystem (e.g., npm, grunt)
In-depth knowledge of relational databases (e.g. MySQL) and NoSQL databases (e.g. MongoDB) with Sequelize/Mongoose/TypeORM
Any view engine(e.g.- ejs/handlebars) that will work with Node to create dynamic templates.
Knowledge with Docker will be an advantage.
Bachelor's degree in computer software or similar.
Mid-High speed internet connection with webcam
We offer flexible timing, but you must be available to work 8 Hrs Per day, Mon-Fri, and responsive to team members and clients.
Have strong communication skills - you may work directly with our clients.
Perks & Benefits
Remote does not mean "distant". At Capital Numbers, you get a competitive benefits package and be part of an award-winning team. Plus, by working remotely, you save more and enjoy a work /life balance.

Competitive salary

Sick and "life happens" days

Paid holidays

Paid parental leave

Paid training programs

Regular Rewards and benefits

Periodic Virtual engagement activities

Opportunity to work on exciting clients

No stressful commute

No cliques (everyone clicks)

No committees or bureaucracy of any kind

Flexible work timings

Competitive salary

Sick and "life happens" days

Paid holidays

Paid parental leave

Paid training programs

Regular Rewards and benefits

Periodic Virtual engagement activities

Opportunity to work on exciting clients

No stressful commute

No cliques (everyone clicks)

No committees or bureaucracy of any kind

Flexible work timings
See all current openings