Exciting
Growth Marketer


Opportunities Available
at Capital Numbers Rated 4.8 out of 5 on

Glassdoor
Job Description
Capital Numbers are a rapidly growing company with several service lines and a couple of SaaS product initiatives. Our company is going through a very high growth curve and we are looking for Growth Marketers who will be able to hit the ground running, has a very proactive work ethic.
Responsibilities:
Develop online marketing strategies and tactics to meet and exceed sales and revenue goals
Collaborate with our internal marketing team and clients on the execution of
SEO/SEM, social media and display advertising campaigns to ensure delivery and distribution of content that meets the needs of all target audiences
Manage all aspects of online advertising (PPC and Display), including set-up and development, proactive recommendations, optimization and reporting
Optimize user experiences. Brainstorm new and creative growth strategies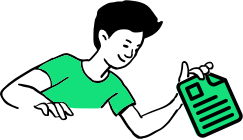 Requirements and qualifications
3+ years of hands-on strategy and execution of online marketing
3+ years of project management, leading digital marketing campaigns and programs successfully
Advanced skills in SEO, SEM
Experience with online tracking and analytics tools; strong analytical skills
Effective multi-tasker, with ability to manage stakeholders, projects, prioritization, and decision making
Creative thinker and strong content production skills
Strong communication and team collaboration skills
Up-to-date with the latest trends and best practices in online marketing anD measurement
Mid-High speed internet connection with webcam
We offer flexible timing, but you must be available to work 8 Hrs Per day, Mon-Fri, and responsive to team members and clients.
Perks & Benefits
Remote does not mean "distant". At Capital Numbers, you get a competitive benefits package and be part of an award-winning team. Plus, by working remotely, you save more and enjoy a work /life balance.

Competitive salary

Sick and "life happens" days

Paid holidays

Paid parental leave

Paid training programs

Regular Rewards and benefits

Periodic Virtual engagement activities

Opportunity to work on exciting clients

No stressful commute

No cliques (everyone clicks)

No committees or bureaucracy of any kind

Flexible work timings

Competitive salary

Sick and "life happens" days

Paid holidays

Paid parental leave

Paid training programs

Regular Rewards and benefits

Periodic Virtual engagement activities

Opportunity to work on exciting clients

No stressful commute

No cliques (everyone clicks)

No committees or bureaucracy of any kind

Flexible work timings
See all current openings