Exciting
Designer


Opportunities Available
at Capital Numbers Rated 4.8 out of 5 on

Glassdoor
Job Description
We are looking for an experienced and talented UI/UX designer to design and shape unique, user-centric products and experiences. The ideal candidate will have experience working in agile teams, with developers, and Project Managers. You will be able to make deliberate design decisions and to translate any given user-experience journey into a smooth and intuitive interaction.
Responsibilities:
Gather and evaluate user requirements in collaboration with project managers, design leads, and clients.
Create, improve and use wireframes, prototypes, style guides, user flows, and effectively communicate your interaction ideas using any of these methods.
Identify and troubleshoot UX problems.
Continually keep yourself updated with the latest changes in your industry's standards.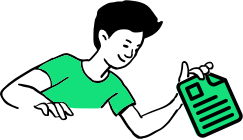 Requirements and qualifications
Three or more years of experience and proven track record.
Strong portfolio to be presented and defended during interview.
Hands-on experience creating wireframes, prototypes, storyboards, user flows, etc.
Proficiency in using UI design tools such as Sketch, Figma, Adobe XD, Illustrator, Photoshop InVision, etc.
Strong communication skills to collaborate with clients and various stakeholders.
Understanding of basic front-end languages: HTML5, CSS3 Javascript would be a plus.
Creative ideas with a problem-solving mindset.
Must have strong attention to detail and have a keen eye for aesthetics.
Be open to receiving objective criticism and improving upon it.
Bachelor's degree in design or relevant field.
Perks & Benefits
Remote does not mean "distant". At Capital Numbers, you get a competitive benefits package and be part of an award-winning team. Plus, by working remotely, you save more and enjoy a work /life balance.

Competitive salary

Sick and "life happens" days

Paid holidays

Paid parental leave

Paid training programs

Regular Rewards and benefits

Periodic Virtual engagement activities

Opportunity to work on exciting clients

No stressful commute

No cliques (everyone clicks)

No committees or bureaucracy of any kind

Flexible work timings

Competitive salary

Sick and "life happens" days

Paid holidays

Paid parental leave

Paid training programs

Regular Rewards and benefits

Periodic Virtual engagement activities

Opportunity to work on exciting clients

No stressful commute

No cliques (everyone clicks)

No committees or bureaucracy of any kind

Flexible work timings
See all current openings